Many who arrive in Berlin will do so by train. Thanks to Germany's excellent railroad infrastructure, the journey is usually comfortable and quick, and drops you off right in the centre of the German capital. Granted, Hauptbahnhof is rather cramped for the amount of traffic it receives and it's not fully hooked up to the subway station yet (a situation which is going to change quickly), but it takes only minimal effort to get wherever you need to go – even if that destination lies outside of the city.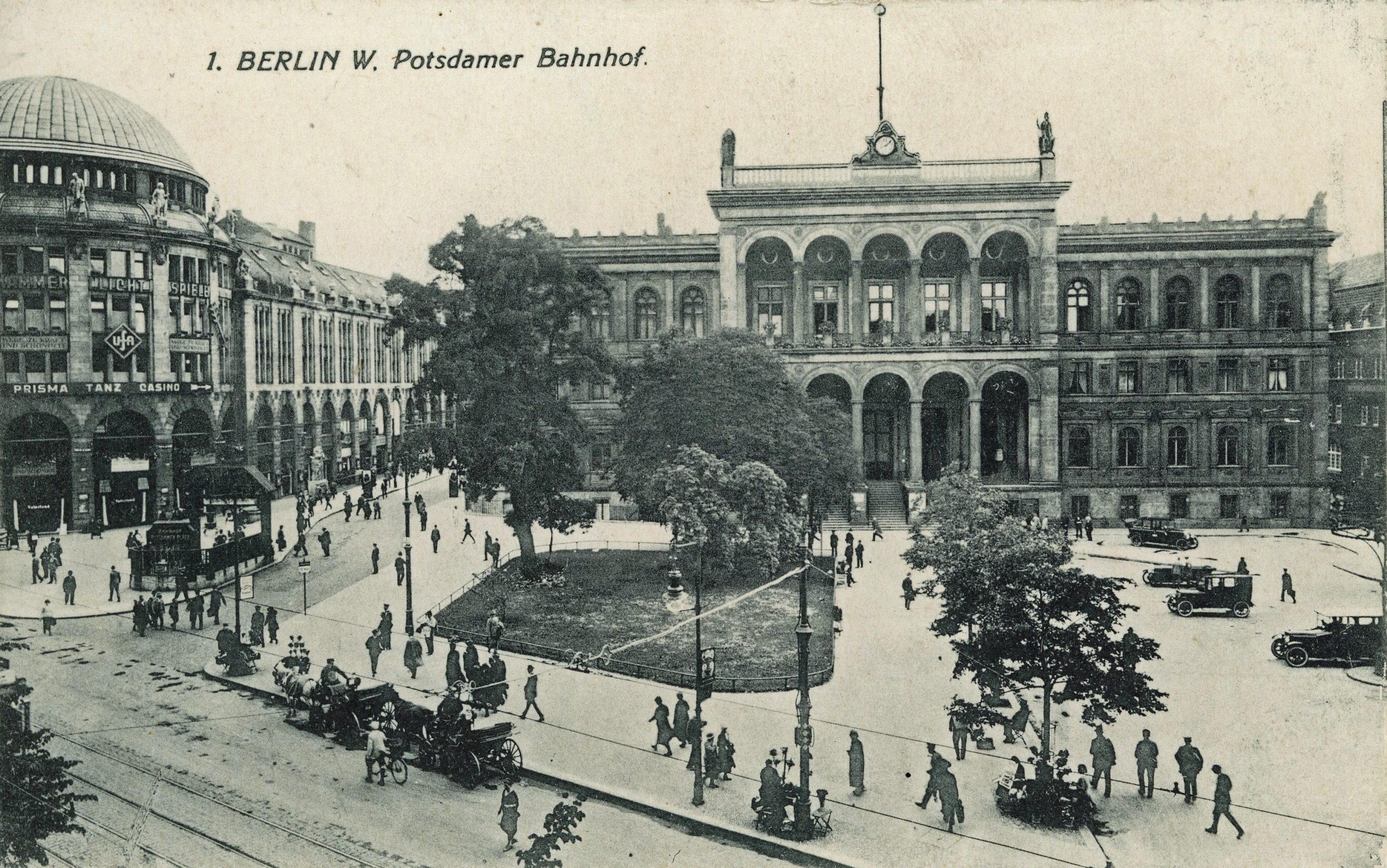 It used to be very different. Before the Second World War, Berlin was a city meant to arrive in, and not so much one to traverse on your way to a different place. Around the centre of the city, a number of large terminal stations was constructed in the course of the 19th and early 20th century, each named after and leading to a different destination. The Anhalter Bahnhof carried passengers to and from Anhalt, the Potsdamer Bahnhof to and from Potsdam… you get the idea.
Gare to Gare
Everyone who's suffered the misfortune of having to traverse Paris or London using a rickety underground train on the way from the Gare du Something to some other Gare will get the idea of the reality of that situation. Ideal it was not, not even after the construction of a Ringbahn system that connected most (but not all!) of these stations. For the large majority of travelers, however, that was not a consideration: they came to Berlin to work, to see the city or to take care of business. Or they left it for a holiday, to travel to other cities and countries, or to visit family.
In a way, it was something of an accident that the capital's railway infrastructure developed the way it did, the consequence of a railway system build on private enterprise combined with Berlin's explosive growth as a city. At the beginning of the 19th century, what was then the Prussian capital contained 172,000 people. By the time the German Empire was founded in 1871, it had grown to just over 800,000; at the time World War One came around in 1914, it was nearly 2 million. And even that does not tell the whole story since many boroughs that are now part of Berlin were then independent cities. When Greater Berlin was formed in 1920, the population of the city more than doubled, to 4,5 million.
Private enterprise
That put an enormous strain on all transport infrastructure, including the railways. Lines and stations couldn't be built quickly enough, as projections of traveler numbers continually proved to be far too modest. With each line a private enterprise (until nationalization in 1894) they all received their own terminus.
For an independent company, the terminal offered all sorts of advantages. Basically, the station was a huge advertisement sign for the company and the city being served. You could control everything for your passengers: not only trains, but also facilities that would serve them before and after. For the city the existence of so many stations was a problem, of course, since you had to be very aware of which destination was served from which station (and sometimes, these could overlap).
Termini are usually impressive buildings and perhaps particularly satisfying from an architectural perspective since they offer such an identifiable "face". They've often been referred to as "railroad cathedrals". This is not a coincidental reference: if you show a random person a picture of Philibert de l'Orme's design for a Basilica from 1648, the majority is bound to identify it as a railway station.
Terminal End
Almost all of these stations have now disappeared. Often, little reminds one of the transport hub that used to be there. Second World War bombings obliterated the buildings; the division of Germany and Berlin after the war did the rest. While architecturally lamentable, this disappearance is also understandable for a number of reasons. First of all, after the partition of Berlin most stations lay in different zones from the tracks that fed them. This became particularly problematic after 1952, when GDR citizens were forbidden from entering West Berlin. The Anhalter, Potsdamer and other stations were still in use even in their bombed state, but people traveling to, say, Magdeburg could no longer get to the place where they were supposed to begin their journey.
A second convincing reason has to do with the intrinsic shortcomings or termini. For the traveler, the setup of all tracks stopping in front of a big hall has a host of advantages: it is easy to change trains (even if it usually involves a lot of walking), all the facilities can be grouped together for the benefit of everyone, and wayfaring and information supply is generally quite simple to organize efficiently. There are drawbacks of course: terminal stations generally involve a lot of walking, since you always start on the platform near the nose of your train; and we've already visited the throughfare problems.
Nightmare
For transport logistics, on the other hand, it is a nightmare. To begin with, platforms and tracks can't be used nearly as efficiently as in through-fare stations; in most stations one half of the station was reserved for trains arriving and the other half for those departing, effectively halving their capacity. Adding to this problem was that although impressive-looking, the capacity of these stations wasn't that great to begin with. Cockpits (and in the past, engines) need to be on both sides of the train since driving in and out has to be done from different sides, and parking trains after service is much more complicated because it interferes with regular traffic.
In the case of Berlin, there had been an alternative: the Stadtbahn, used by both regular and S-Bahn local trains. Put into service in 1882, by 1900 it was explored as an alternative for the terminus system. The Frankfurter Bahnhof had already been converted into a through-fare station in the 1880s, making it possible to connect to a line that crossed the inner city, using Friedrichstrasse and Zoo station.
Cramped conditions
It is here that Berlin Hauptbahnhof now sits, on the site of the old Lehrter Stadtbahnhof and Lehrter Bahnhof. Anyone arriving or departing from the top platforms of the station will have noticed how cramped it still is, since it still has to deal with the restrictions of a 19th-century system – and an extension of capacity is impossible in such a densely packed city. However, it also uses a north-south tunnel (begun in the 1930s but only completed recently) in the basement. Reserve a good ten minutes to get from one to the other, though. Yes, it is still clumsy, but a heckuvalot better than having to fight your way through a city to get from one station to the next.
What remains today is not much. The Potsdamer, Küstriner and Görlitzer Bahnhof have almost entirely disappeared. The Schlesisches Bahnhof is now Berlin Ostbahnhof, having gone through two renovations and three re-namings since the war. The Hamburger Bahnhof, already out of service well before 1900 and turned into a transport museum, today is an art museum and has survived all its ordeals pretty well; its hall offers the best impression of a 19th-century terminus hall despite its small size. The Stettiner has disappeared save for the Vorortbahnhof (suburb station) that had already become redundant before the bombs fell and survived as an entertainment venue.
Stations as a symbol
In the coming months, I will be publishing a brief history of these stations. I'm primarily interested in what they meant for the city: why and how did people travel from and to them, what was their influence on the surrounding area and the city as a whole? And why does this part of Berlin's past still conjure up such nostalgia? Not in all cases, of course, such as in the case of Grunewald Station – not a terminus, but very much representative for the end of the Berlin Jews, who started their journey to the death camps here in the Second World War.
Perhaps none of these stations symbolizes this nostalgia more than the Anhalter Bahnhof, the portico of which survives near the eponymous S-Bahn station. Once Berlin's most prestigious station, its ruin serves as a reminder to both the horrors of the Second World War and the corruption afterwards. There are plans to reconstruct it as an entertainment venue (an echo of the Küstriner Bahnhof). These have yet to really get off the ground, but the fact that it is being discussed tells us something about the places these venues still hold in the public imagination.
Further Reading
Anyone interested in the 19th century railway (and transport) experience, should read Wolfgang Schivelbusch' The Railway Journey (German edition 1981, updated English edition 2014), particularly chapter 3, "Railroad Space and Railroad Time". The most extensive treatment of German station architecture in the 19th century is probably still Ulrich Krings' Deutsche Großstadt-Bahnhöfe des Historismus (1981 as PhD dissertation, commercial edition 1985) and I warmly recommend it to anyone interested in the subject. Boris von Brauchitsch' Unter Dampf consists mainly of photographs, but the selection of images for the book is really well-done.
If you're more into rolling stock (unlike me), there is a hoard of material available, but a good introduction is Winfried Reinhardt's Geschichte des öffentlichen Personenverkehrs von den Anfängen bis 2014.
Literature
Ag, Deutsche Bahn. Planet Eisenbahn: Bilder und Geschichten aus 175 Jahren. Köln/Wien: Böhlau Verlag, 2010.
Bley, Peter. 150 Jahre Eisenbahn Berlin-Potsdam. Aus der Geschichte der ältesten Eisenbahn in Berlin und Preussen. Düsseldorf: Alba, 1988.
Brauchitsch, Boris von. Unter Dampf: historische Fotografien von Berliner Fern- und Regionalbahnhöfen. Berlin: Braus, 2018.
Gall, Lothar. "Eisenbahn in Deutschland: von den Anfangen bis zum Ersten Weltkrieg." In Die Eisenbahn in Deutschland. von den Anfangen bis zur Gegenwart, edited by Lothar Gall and Manfred Pohl, 13–74. München: C.H. Beck, 1999.
Knipping, Andreas. 175 Jahre Eisenbahn in Deutschland. Die Illustrierte Chronik. München: GeraMond, 2010.
Krause, Falko. Die Stadtbahn in Berlin. Planung, Bau, Auswirkungen. Hamburg: Diplomica, 2014.
Krings, Ulrich. Deutsche Großstadt-Bahnhöfe des Historismus. München: Prestel, 1985.
Reinhardt, Winfried. Geschichte Des Öffentlichen Personenverkehrs von Den Anfängen Bis 2014. Mobilität in Deutschland Mit Eisenbahn, U-Bahn, Straßenbahn Und Bus. Wiesbaden: Springer Vieweg, 2015.
Sauer, Mark. In geplanten Bahnen: Eisenbahnanlagen als Kulturlandschaftselemente in Deutschland von 1848 bis 1998. Bonn: Universität Bonn, 2000.
Schivelbusch, Wolfgang. Geschichte der Eisenbahnreise. Zur Industrialisierung von Raum und Zeit Im 19. Jahrhundert. München & Wien: Ullstein, 1977.
Schivelbusch, Wolfgang. The Railway Journey. Berkeley & Los Angeles: University of California Press, 2014.
Winkler, Dirk. Die Eisenbahn in Berlin, Eisenbahn-Kurier Special, 133 (2019).
A special shoutout to Ger Dijkstra for sharing some of his omniscience of rolling stuff on steel beams with me.
(c) Ilja Nieuwland 2020. All rights reserved.