This isn't so much a blog as a place for me to reflect on topics from the rich field of cultural history that interest me. Don't expect only academic, article-length contributions here. Instead, it's a place to comment on anything that I'm just interested in.
Also, I intend to use this space as an aggregator, to collect online (and, sometimes, offline) things relating to the history of paleontology.
Why Hydrarchos?
Hydrarchos harlani was a creative amalgam consisting of several (an estimated five) skeletal parts originally belonging to the fossil whale Basilosaurus (Zeuglodon). 'Dr.' Albert Karl Koch, a German who had emigrated to the United States, handily played into the then current interest in sea snakes, and toured the United States, and later Europe, with his invention in the 1840s. Eventually, the first Hydrarchos was bought by the Prussian royal zoological cabinet in 1848, where it was disassembled and re-categorized. In the 1850s, parts of it were sold through the fossil auction house Krantz (or Crantz) in Bonn. At least a few bits ended up in the Teyler Museum in Haarlem, the Netherlands (although the link to Koch's snake was never documented during the sale).
About me
I'm Ilja Nieuwland. Born in 1970 in Veendam, in the northeast of the Netherlands. Went to school in Friesland (my cultural home), studied in Groningen, worked in Berlin, Potsdam, Groningen again, Amsterdam, Rotterdam and The Hague. I enjoy to live in Leiden, but try to spend as much time as possible in Portugal. Spare time is taken up with lots of music, gaming, reading and loitering.
I am an historian of science/cultural/scientific culture at the Vrije Universiteit Amsterdam and the Huygens ING (part of the Royal Netherlands Academy of Arts and Sciences). Most of my work is in the history of science, but I've also written opinion pieces, music reviews and some other stuff. And no, I'm not working on a novel.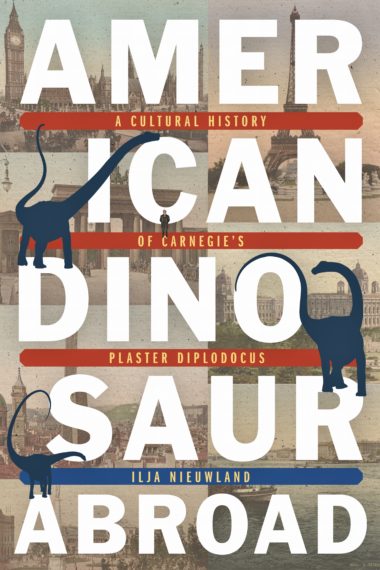 In 2019 I published my first (solo) book, American Dinosaur Abroad. A Cultural History of Carnegie's Plaster Diplodocus, with University of Pittsburgh Press. It is the story of how an American philanthropist tried to create eternal world peace by giving plaster copies of large dinosaurs to European potentates in the early years of the 20th century. There's more to it than that of course, but if you want to get the whole picture I am obviously recommending that you read the whole thing. You can find more about that book here, and you may buy it here – or better still, at your local bookseller's.
At the moment, I'm working on a second book: a biography of the German paleontologist and geologist Otto Jaekel, whose life included and transcended science, culture, art, politics, adventure and, sometimes, questionable judgment. I'm really stoked about that book and don't worry, I won't fail to report on its progress on this site.